Year-Round Hot Air Balloon Rides Colorado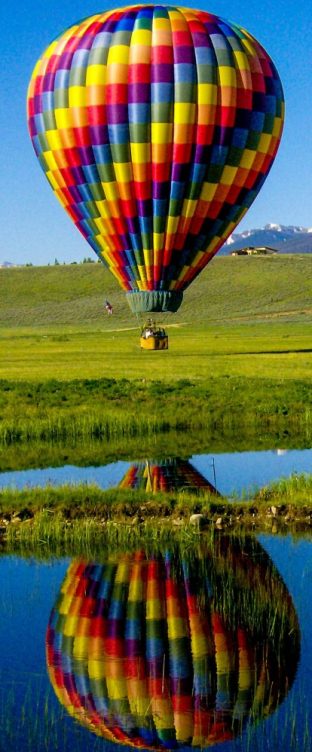 Colorados' Premier Mountain Balloon Ride
Our Grand Adventure Balloon Captain has a perfect safety record with flights logged all over the Country. Flying the Winter Park area for over 25 years, this Colorado balloon ride location is a "Colorado Favorite." It has some of the best ballooning in the World. Having the closest and best views of breath-taking peaks into Rocky Mountain National Park. In addition, the Winter Park Fraser Valley is surrounded by picturesque Rocky Mountain peaks. Set on the ridge of the Continental Divide, and the edge of Rocky Mountain National Park. Therefore, it has an abundance of Colorado wildlife, Colorado history and so much more. Open year-round. And, it is the closest mountain balloon ride to RMNP, Denver, Boulder, the Front Range, Breckenridge, Keystone, Winter Park, Granby, Grand Lake, & Estes Park.
Explore Something Grand!
Want to balloon in the Rocky Mountains?!!  Grand Adventures' Grand County balloon flight location is just that!
Furthermore, see Google Maps on our contact page, it shows in green the majestic mountain ranges that will surround you during your flight. Our mountain ranges aren't off in the barren distance. Fraser Valley ranges are big, bold and beautiful! So if you want a real feel of flying in the mountains, come ballooning with us! And, get carried away on a Grand Adventure Balloon Tour in beautiful Grand County, the West entrance to one of the most magical places on Earth!
Hot air balloon rides are weather permitting, therefore we recommend trying early during your stay.
Colorado balloon rides take place in the morning when breezes are gentle and the atmosphere is most stable.
The lift-off is so gentle that many people do not realize that they have left Mother Earth.
Peaceful Easy Feeling!
Because you become one with the wind, you lose the sensations of movement and perception of heights, you begin to feel the peacefulness and tranquility of ballooning.
Low-level contour flying allows spotting wildlife, picking pinecones from treetops, flying over the train, stagecoach stops, and splash and dashing in a nearby pond or river. At higher altitudes, spectacular peaks into Rocky Mountain National Park are seen.  Due to this amazing spot, you will feel like you're on top of the World with some of the most amazing views of the Colorado Rockies. For 100 miles you will view into 7 counties which include Grand, Routt, Summit, Clear Creek, Gilpin, and Boulder Counties of Colorado are seen. Furthermore, all tours include the history of the area, man's first flight, & the science of ballooning.
Conveniently Located Between Denver, Breckenridge, & Estes Park
Our flights' launch in Fraser Colorado in the heart of the Colorado Rockies, which is conveniently located about 1.5-hour drive from Denver, Boulder, Breckenridge, Frisco, Silverthorne, Dillon, Keystone, and Copper. Only 10 minutes from Winter Park Resort, Granby Ranch, and 5 minutes from locations in Winter Park and Fraser. Located 30 minutes from Grand Lake, the West entrance to Rocky Mountain National Park and 1 hour 45 minutes from Estes Park, Colorado, the east entrance to Rocky Mountain National Park.
Our Colorado Hot Air Balloon Rides include;
Traditional Champagne Toast Celebrating Man's 1st Flight
CB Breakfast+
Launch Photo
Commemorative Aeronaut Flight Certificate
A Grand Adventure Bonus Album of your Morning Adventure
The rate is $275 per person
After the flight you will be close to many other Colorado Activities Including:
Summer
Colorado River Rafting
Horseback Riding
Mountain Biking
Hiking
Fishing
Georgetown Loop Train
Boating Rentals/Tours
Golfing
Winter
Skiing
Snowmobiling
Hot Springs
Sleigh Rides
Snow Tubing
Ice Skating
Dog Sledding
Snow Cat Skiing

See Colorado from Above it All!
A Colorado hot air balloon ride is a great way to celebrate a special occasion or make any occasion special. We hope to have the opportunity to share our personal world-class adventure with you. We are confident that your Colorado balloon ride memories will last a lifetime. Just imagine that nothing comes as close to a magic carpet ride as a balloon flight. Every morning at sunrise the skies are brightened by a hot air balloon taking off from the Winter Park/Fraser Valley Area. Passengers' excitement begins to build as they gather to watch the balloon being inflated. First of all, you'll get into the basket. The pilot heats the air inside the balloon until it becomes "lighter than air." As a result of this heating, the balloon will gracefully ascend, affording magnificent views of the mountains.
In addition to the awesome beauty of the valley illuminated by the clear morning light, the sensation which impresses most first-time aeronauts is the absence of any perception of motion. Therefore it is a sense of suspended animation, of being one with the wonders of nature.
Grand Adventures' Prides itself on Perfect Safety Record!
Our experienced pilot knows exactly how to adjust the altitude to hitch a ride on a friendly breeze going their way. While the flight paths of the balloons vary with the direction and speeds of the winds, the balloons may not land in the same location each day. Every balloon ride is a unique journey of its own! Therefore, a chase vehicle follows each balloon and a trained crew is on hand at the end of a flight to assist with the landing, to pack up the balloon, and to transport the passengers back to their vehicles.
In addition, each balloon ride adventure is celebrated with a traditional champagne toast – a tradition over 200 years old. A CB breakfast, a commemorative Aeronaut Flight Certificate, and a launch photo. Also a Grand Adventure Bonus Album of your morning's adventure!
Flights are approximately one hour, depending on landing site availability, wind direction, and fuel consumption. Flights are scheduled at sunrise when the atmosphere is most stable and breezes are gentle. Mornings are the best time of the day in Colorado Rocky Mountains! Get up with us and enjoy a Rocky Mountain sunrise over the Continental Divide. It's one you won't want to miss!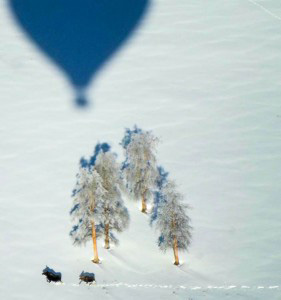 Winter Ballooning
Colorado Winter Balloon Rides
Hence, when people hear about hot air ballooning in Colorado during the winter months, the first thing they say is "it must be cold up there." In the Winter Park valley, we get a temperature inversion, because warm air from the rising sun lifts and the cold air from the mountain tops settles to the valley floor. Aeronauts often experience temperatures 30 to 40 degrees warmer in flight than on the ground. Therefore dress as if you were going skiing or snowmobiling, you will be comfortable and may even find yourself peeling off a layer.